House is targeted in arson attack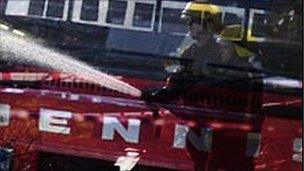 There has been an arson attack on a house in Newtownabbey.
Shortly after 0200 BST on Wednesday, a wheelie bin was propped up against the front door of the house at Hillview and set alight.
A 31-year-old woman and her two sons aged 13 and 15 escaped from the house without injury. Smoke damage was caused to the hallway and door.
A number of youths were seen running away from the scene after the attack.