'Knife broke' during north Belfast bar stabbing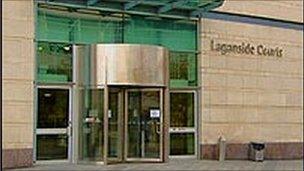 A man accused of a stabbing in a north Belfast pub may have tried to inflict further wounds after the blade broke, the High Court has been told.
Prosecutors said the victim suffered another nine scratch marks to the chest after being knifed once in the stomach.
The 23-year-old man was taken to hospital on Sunday with intestines protruding from his wound, they added.
Details emerged as Terence McCrory, 20, who faces an attempted murder over the alleged attack, was granted bail.
Mr McCrory, of Innis Avenue, Belfast, was charged after the stabbing at a bar on Charleville Street.
He claims to have been subjected to a two-year campaign of bullying and harassment by the victim.
The accused is alleged to have launched his attack when the victim was leaving the premises and offered to shake his hand.
The court was told the injured man tried to get away but was chased and brought to the floor.
Crown counsel Conor Maguire said the victim had nine scratch marks to his chest, possibly from Mr McCrory attempting to stab him after the blade broke off.
The prosecution was appealing an earlier Belfast Magistrates Court decision to grant bail to the accused.
Following his arrest Mr McCrory claimed to have been in a frightened state due to past events.
His sister gave evidence to back claims that he was previously bullied by the victim and others.
She told the court of an alleged incident when three men tied Mr McCrory to a chair and repeatedly beat him.
The judge upheld the decision to release the accused on bail, but banned him from going within a mile of the victim's address.
He was also barred from any pubs and told to report to police three times a week.
Mr Justice Treacy also ordered the case to be reviewed in four weeks time, when full medical reports are to be provided.