Speeding driver is fined a penny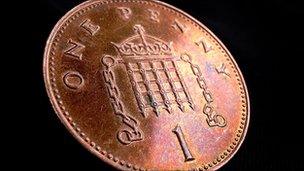 A man prosecuted for driving at 45mph in a 30mph zone has been fined 1p at a court in County Londonderry.
Kenneth Kane, 52, from Toberkeigh Road, Bushmills, was stopped by police on the Tobermore Road, Maghera, on 11 May.
He was offered a fixed penalty notice but failed to take it up in time.
Magherafelt District Judge Desmond Perry fined Mr Kane 1p and "with much regret" put three penalty points on his licence. However, he said the case "should never have been prosecuted".
Mr Kane had a completely clear previous record and no penalty points on his driving licence.
The judge asked the prosecuting lawyer to look at the case again, but she said she was unable to refer it back for fixed penalty as it it had now reached court.
Judge Perry said: "I wasn't even thinking of a fixed penalty. There must be something that can be done."
However, the Public Prosecution Service refused any alternative.
"This is a remarkable state of affairs," said Judge Perry.
"Young people are being cautioned for assaults, and others for thefts. Here is a man of 52; of good character with no previous and he is prosecuted for being 15mph over the limit.
"Where is the discretion?"
A spokesperson for the Public Prosecution Service said the defendant had been driving 50% in excess of the restriction and because of the potential risk to other road users and pedestrians, the case "merited prosecution".
"In this case, police informed the PPS that the Accused was driving at excess speed at about 4-15 pm in the vicinity of a school - there are obvious particular risks in such a case," they said.