Poots suspends local government transition money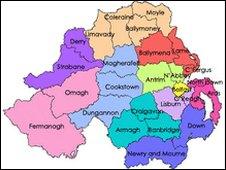 Environment Minister Edwin Poots has suspended £1.65m in annual funding for committees set up to prepare for a reduction in the number of councils.
The current 26 councils were to be replaced by 11 following a local government election in May next year.
However, the failure of the Executive to agree on the plan means the target date has been put back indefinitely.
Mr Poots said funding for the 11 "transition committees" could not be justified in the current climate.
Each cost £150,000 a year and the funding will be suspended from 31 October.
Mr Poots said that from recent meetings with local government representatives, he had decided that there was no "significant role" for the committees.
He added: "Many of the transition committees no longer meet as they consider that they can carry out no useful function towards re-organisation."
The minister stressed that he "remained committed to reforming local government".
"Once we have determined a new delivery timetable, it can be decided what role transition committees will play in delivering the reform programme."
Ballymena councillor James Alexander, who sits on one of the transition committees, said the minister's department was "making a mess".
He said: "They were actually going to get RPA (Reform of Public Administration) on the cheap if they had got the transition work together and got on and did the job.
"Everything could have been drawn in and finalised for the middle of next year."