Paul Henry painting 'The Bog Road' sells for £64,000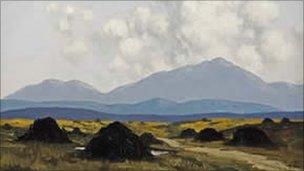 A painting by renowned NI artist Paul Henry which was unearthed on the BBC Antiques Roadshow programme has sold at auction for 73,000 euros (£64,000).
"The Bog Road", which was expected to fetch up to 60,000 euros, (£52,700) was sold to an anonymous bidder, believed to be Irish, at an auction in Dublin.
Adam's Auctioneers director David Britton said the work had attracted a lot of interest from potential buyers.
The piece had belonged to the Toone family since 1938.
William Toone, one of the founders of the Castle Park school in Dalkey, County Dublin, bought it from the artist and passed it on to his grandson David.
He asked his wife to take it to the Antiques Roadshow where expert valuer Rupert Maas valued the work at 45,000 euros (£39,500).
This is the second Paul Henry painting to be discovered on the Antiques Roadshow.
In 2006, Dooega, Achill Island, County Mayo went under the hammer for almost £150,000 (170,000 euros) at Adam's - about four times the estimate put on it.
Paul Henry was born in 1876 and moved to Paris when he was 22. He later moved to Achill Island and then Dublin. He died in 1958.
Related Internet Links
The BBC is not responsible for the content of external sites.