Passengers walk the plank on broken down train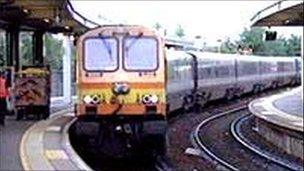 Passengers travelling from Dublin to Belfast on Wednesday said they had to walk across a plank to transfer trains after the one they were on broke down.
The 1900 train suffered engine problems just outside Newry. A replacement train was sent to bring people to Belfast.
A Translink spokesperson said passengers were transferred "on a door-to-door boarding ramp... which is a tested and fully approved procedure."
Passenger John Wade said although he felt safe, it was a strange experience.
"The ramps were the height of the carriages so we just walked across," Mr Wade said.
"One of the staff informed us that the train had broken down because the engine had failed.
"They then brought another train down from Belfast and parked it alongside the Enterprise and we had to transfer across from one train to the other."
The Translink spokesperson added: "The health and safety of our passengers is of paramount importance at all times.
"We apologise for any inconvenience caused."