Judge to rule on murdered Massereene soldiers case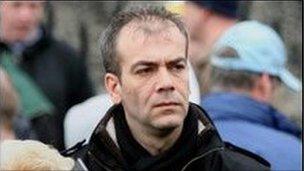 Two men accused of murdering two soldiers at Massereene barracks last year will find out next week if they are to stand trial for the killings.
A judge said that he would review the evidence of the three-day preliminary enquiry before making a ruling.
Colin Francis Duffy, 42, from Forest Glebe in Lurgan and Brian Patrick Shivers, 45, from Sperrin Mews in Magherafelt are charged with murder.
They also face several charges of attempted murder.
Sappers Mark Quinsey and Patrick Azimkhar were shot dead by gunmen on 7 March, hours before they were due to be deployed to Afghanistan.
A number of other people were wounded, including a man delivering pizza to the soldiers.
At Coleraine Magistrates Court on Thursday, a prosecution lawyer told the court that while there was an "overwhelming" case for the two men to answer, only a prima facie case had to be established at this stage and that test had been met.
A barrister for Mr Duffy said the prosecution had not attributed any role for his client in the murder and that the case "simply did not pass muster".
The prosecution, he added, should be embarrassed at making a case which did not even cross the rubicon from speculation into one where proper inferences can be drawn.
A solicitor for Mr Shivers claimed that no reasonable tribunal, properly directed, could convict him.
The evidence against him, he said, rested exclusively on that of a DNA expert who had conceded that the source of that DNA or when and how it came about could not be established.
On Wednesday, the court heard that police have lost a document that allegedly links the two suspects with the gunmen's getaway car.
An exhibit label detailing who had contact with the green Vauxhall Cavalier had "gone missing", the court heard.
A solicitor for Mr Chivers suggested the loss of the label was "due to inadequate and haphazard records".
He told the court that police had "no standard procedures in place" for dealing with exhibits and that it was all "hit and miss".
It also emerged that DNA profiles from six other males were also recovered from the car.
Among those whose profile was identified was that of a civilian police driver whose DNA was allegedly recovered from swabs taken from the hatchback's hand brake.
The driver told the court he was always dressed in full personal protection gear, consisting of a plastic forensic suit, boots, hood and mask when in contact with the car, but he could not say how many times he had been in contact with it.
Mr Chivers' solicitor asked: "It follows doesn't it from what you have said about the precautions, that your DNA on the lever of the brake must have transferred there innocently, isn't that correct?"
The driver said he believed that was the case.
It was during the driver's evidence that it emerged the exhibit label for the Vauxhall has gone missing and therefore he could not say how many times and when he was in contact with the getaway car.
He said he was "not required to keep information with reference to how many times I had been in contact with the vehicle".
The driver further explained that he did not always sign the exhibit label when he was in contact with the car, "unless instructed to by whoever asked me to move the vehicle".
Asked by the solicitor if it was a case of no standard practice being in place for dealing with exhibit labels and that the whole thing was "a hit and miss", the witness replied he could only state what he had previously said.