Free prescriptions could cost health service £20m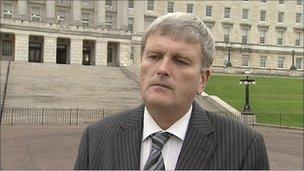 There are fears that free prescriptions could be costing the health service up to £20m a year because many patients are abusing the scheme, an assembly member has warned.
A Stormont Health Committee heard the cost of the service has risen rapidly since prescription charges were initially abolished in April.
Chairman Jim Wells said more and more people are availing of free medicines. Although the majority of prescriptions are legitimate some patients are using the service unnecessarily, he warned.
Mr Wells said he has heard of patients receiving items that they would normally have paid for before the free service, including products like sun tan lotion.
"We asked the committee to look into this issue because initially we were told the cost of free prescriptions was going to be £13m," Mr Wells added.
"I have heard from sources that this has increased dramatically to £20m.
"I understand people are getting free prescriptions for things they would otherwise have had to buy. We need to look at this and review it as soon as possible."
Prescriptions charges were abolished in April. The move was broadly welcomed as something that benefited everyone.
It was expected it would cost the health service £13m but Mr Wells said that figure is on the rise and is calling on the Health Minister Michael McGimpsey to re-examine the scheme.
He added: "We are going to have to examine ways of saving money everywhere. Given what is probably ahead of us next week in the budget we have to look at every pound spent in the health service and see are we getting the best value."
There are concerns the Minor Ailments Scheme, introduced in 2005, where certain over the counter medicines are made free of charge, is also contributing to costs.
However, community pharmacist Dr Terry Maguire said he believes it is "cost effective".
"The scheme only consists of cheap medicines and initially it was set up for people who couldn't afford to pay for medicines and didn't pay prescription charges," he added.
"Since the Minister took away the charges clearly everyone now has access. Of course we will all say we will be more sensible and realise that when we do access the service it costs the health service. But overall it is cost effective."
The Department of Health said it is keeping the additional costs associated with free prescribing under review.
It says on average, the volume of prescriptions normally rise by 5 to 6% each year and another consideration is the rising numbers of older people with long term conditions and the impact of the recession on people's health.