Lord Carswell says it's time to move on from Troubles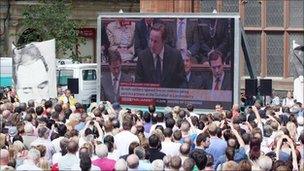 NI's former Lord Chief Justice has said no more public inquiries should be held into the events of the Troubles.
Speaking during a Lords debate on the Bloody Sunday Inquiry, Lord Carswell said he detected a growing feeling that Northern Ireland "would benefit from trying to put the past behind us".
He said focusing on old wrongs was "keeping people on edge, which is detrimental to the health of society".
"To reiterate the cliché: it is time to move on," he said.
"If we are to develop as a mature and peaceful society, it is better that we should do so without inquiries, which are commonly so prolonged and often controversial, and may produce too little real enlightenment in the end."
Former Church of Ireland leader Lord Eames said the government must come up with an alternative after Prime Minister David Cameron pledged to stop "costly, open-ended inquiries".
Lord Eames, who heads up a commission to look at ways of dealing with the legacy of Northern Ireland's troubled past, said alternatives needed to be found to fill the "vacuum".
"If we do not come to terms with the sense of the nature of dealing with the past in a place like Northern Ireland, there will be a constant drip-by-drip exposure and a calling of attention to atrocities, to events, to suspicion - the list is endless," he said.
"Coroners' courts, investigative journalism... that is going to go on and on for our generation and for the most important generation, that which will read of the Troubles in history books."
He said the Consultative Group on the Past's suggestion of a legacy commission had been rejected as too costly.
"And then we learned of the cost of the Saville Report," he added.
Shadow Lords leader Baroness Royall of Blaisdon raised concerns about the government's pledge to scrap open-ended inquiries.
"So what now of the inquiry into the death of Pat Finucane?" she asked.
"What about the deaths of the 11 civilians at Ballymurphy in 1971 - an incident where some of the soldiers that were on duty that day were the same service personnel who were to be at Londonderry six months later?
"What about an inquiry into the Omagh bombing?"
Lady Royall said the Historical Enquiries Team (HET), which was set up to investigate murders during the Troubles, had neither the "human resources nor the budget" to conduct complex inquiries.
"The HET is halfway through their caseload and they have spent all of their allocated money already," she said.
Government spokesman Lord Shutt of Greetland said a "Saville-type inquiry" could not be held for each murder during the Troubles.
He said the HET was achieving a "high satisfaction rate" and helping to bring resolution to families.
"There also remains a demand for public inquiries into a number of specific legacy cases," he said.
Lord Shutt told peers that while the government's overall position was clear, "that is not to say that we do not recognise the sensitivities in specific cases and the need to look at each case on its merits".
Former Conservative Cabinet minister Lord Tebbit disagreed that there should be an end to inquiries and called for an investigation into the 1984 Brighton bombing, which paralysed his wife and killed five people.
He said that only one man was convicted for the bombing, but the government had said it did not plan to hold an inquiry into it.
"Why was it so important to inquire at such cost and such time what happened and who was responsible for what happened at Londonderry but so important not to uncover who was responsible for what happened at Brighton?"