John Taggart launches Titanic apartment counter-claim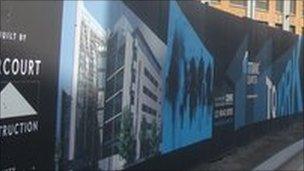 A property developer being sued for allegedly failing to complete the purchase of a Belfast apartment has launched a counter-claim.
John Taggart, whose company Taggart Holdings went into administration in 2008, allegedly signed a contract to buy a property in the Titanic Quarter.
He is understood to be claiming that the contract does not comply with a relevant European directive.
The case is now expected to proceed to a full trial.
Taggart Holdings, which Mr Taggart ran with his brother Michael, was reported to have owed Bank of Ireland and Ulster Bank £170m when it went into administration.
Michael Taggart is the subject of legal action for his alleged failure to complete the purchase of an apartment in a separate development in the city.
The actions have been triggered by plummeting property prices which have left some clients unable to secure mortgages for sales agreed at the height of the market.
A lawyer for Titanic Quarter Ltd, owned by Dublin-based Harcourt Developments, said that John Taggart was not claiming a complete lack of money as others sued for similar alleged breaches have done.
Titanic Quarter is seeking orders to compel all the defendants to honour their side of the deal.
Mr Taggart's case will be reviewed again by the court later this year.