Causeway stones to go under the hammer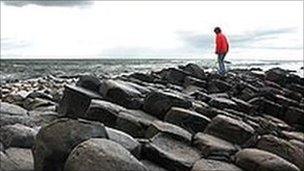 Stones shaped like those found at the Giant's Causeway are expected to fetch up to £25,000 at an auction next week.
The stones once belonged to Rathmore Golf Club in Portrush, home course of US Open winner Graeme McDowell.
They were bought by the club in the 1970s and put in the car park as a bulwark against possible damage in a car bomb attack.
Last year, the club sold them for a nominal fee to a keen gardener who sold them on to a man in England.
It is thought the stones may have been taken from the world-famous tourist attraction on the north coast of Northern Ireland several decades ago.
Auctioneers at Billingshurst in east Sussex have said they expect the stones to fetch between £10,000 and £25,000.
The catalogue entry for the lot says that research suggests "stones of this size and magnificence, with each weighing in the region of two tonnes, are possibly unique outside their original location".
It adds that it is a "once only opportunity to acquire such rarities".
James Rylands, director of Summers Place Auctions said it was a pity the stones had been taken from the causeway.
"We can't put them back but I want to give them as wide an audience as possible and that they go to a good home, hopefully back in Northern Ireland, where they will be appreciated.
"It's a real piece of history."
The Giant's Causeway, which attracts 750,000 visitors a year, was declared a World Heritage site by Unesco in 1986.
It has been owned by the National Trust since 1961.
A trust spokeswoman said the removal of stones from the site would be in breach of conservation regulations and that it was "disappointed" to see the stones go up for sale.
Related Internet Links
The BBC is not responsible for the content of external sites.