Firefighters attacked by stone-throwing mob in Antrim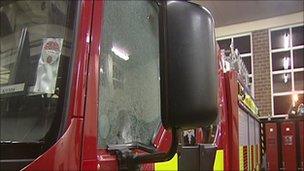 A firefighter has been injured after his fire appliance was attacked by a mob of stone-throwing youths in Antrim.
The Fire Service was responding to reports of a grass fire, but found a burning bin had been pushed against the wall of a community centre.
Firefighters battled the blaze in the Stiles estate despite being pelted with stones and after eventually managing to put it out, they withdrew.
The injured firefighter had a fragment of glass embedded in his ear-drum.
He was wounded after a window of the fire engine was smashed.
Station commander Keith Black said an industrial size bin had been pushed against the community centre and set alight.
"As the crews went into the estate to deal with that, they came under attack from a crowd of youths.
"However, because the guys are local up there, they know exactly the value of that community centre to the locals in that area, so they dealt with that fire very quickly.
"Once they got the fire under control they decided to withdraw and again came under attack and as they drove away from the estate, they were hit with a large object which broke a front window of the fire appliance."
Mr Black said the youths could have been attacking their neighbours.
"The guys in Antrim station, they live in the Antrim area, they work in the Antrim area.
"When these guys are throwing stones they could be throwing stones at someone who lives on the next street or very close by."