Owen Paterson makes commitment on capital funding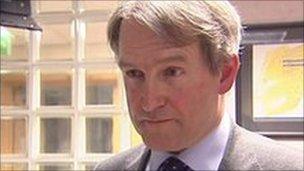 Secretary of State Owen Paterson has said that Northern Ireland will receive the capital investment funding pledged under the St Andrews Agreement.
Peter Robinson and Martin McGuinness had raised concerns that the £18bn investment pledge promised by the Labour government could be halved.
Last week, Mr Paterson was reported to have said that Gordon Brown had "written a cheque he could not cash".
However, he said on Thursday that the government would fulfil the commitment.
Speaking to Radio Ulster on Friday morning, Mr Paterson said Northern Ireland was an issue of real interest to Prime Minister David Cameron and Deputy Prime Minister Nick Clegg, who was in NI last week.
"I'm here to bat for Northern Ireland in the cabinet," he added.
"At a time of incredibly tight spending - when we're going to have to reduce the total spend in order to stop the UK state borrowing £270,000 a minute - it is my job to stick up for Northern Ireland."
Mr Paterson said that while the investment pledge would be honoured, something had to be done about Northern Ireland's "very, very high" dependence on public sector spending.
"For the last three years I've been saying that it is unsustainable, we need to begin to work on that," he said.
"We need to begin to revive the private sector - I've got ideas for turning the whole of Northern Ireland into an enterprise zone."
The news was welcomed by Deputy First Minister Martin McGuinness.
"Over the course of recent weeks we have built a strong political consensus and put a strong case to the British Treasury that the commitments entered into by the previous British government concerning significant investment in the north needed to be honoured," he said.
"It now appears that the British government have moved to recognise that moving away from these commitments and specifically the Investment Strategy is not acceptable.
"This shows what is possible when we pull together and put a strong united case forward."
Economist John Simpson told the BBC that he believed a total of £14bn will have been invested in Northern Ireland by 2014-15, the end of the period covered by the Comprehensive Spending Review next week.
He added that he believed the government was then hoping that with an improved economy it would make up the rest of its commitment over the following three years.
Mr Paterson declined to say how the funding would come.
"These are the nitty gritty details that we are still negotiating over the last few days before we decide to make the announcements next week.
"But there was this bad headline that the £18bn was at stake so I would like to reassure everyone that as far as we are concerned, we are on track to spend 18 by 2017-18."
He added: "Having had discussions with the treasury, we are confident that having spent £9.8bn since 2005, that by 2017-18, we will be on track for Northern Ireland to have spent £18bn."