Council's £24,000 payout over Jim Rodgers 'tomato jump'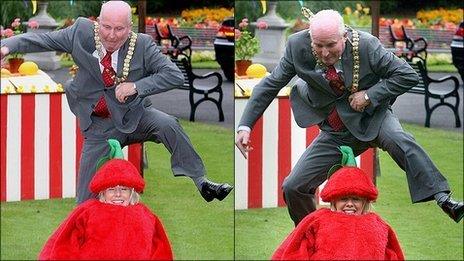 A Belfast City Council worker who was dressed as a tomato when she was injured by the then lord mayor has agreed a settlement of £24,021.75.
Lorraine Mallon suffered a slipped disc when Jim Rodgers' knee accidentally hit her head as he tried to vault over her.
Ms Mallon had been dressed as a tomato to launch a gourmet garden event in Botanic Gardens in September 2007.
A spokesperson for the council said: "We can confirm that a settlement has been made in that case."
The case was heard by Mr Justice Stephens at the High Court in Belfast, with the settlement agreed on Tuesday.
The council must also pay the costs of the action, which was brought against it on the grounds of negligence and breach of statutory duty.
After the incident, Mr Rodgers, an Ulster Unionist councillor, said he attempted the act of athleticism at the request of photographers.
"I have been absolutely devastated over what has happened," he said.
"There had been three false runs and I think Lorraine thought this was just another one.
"I just caught the top of her head and unfortunately I injured her."
Mr Rodgers said he was confident he could have made the vault.
He said: "I'm very fit and look after myself, but it was just one of those unfortunate things."
Related Internet Links
The BBC is not responsible for the content of external sites.