Keep Rathlin ballot box - Murphy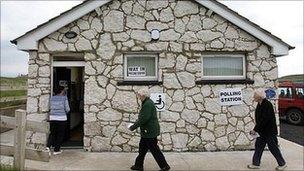 Regional Development Minster Conor Murphy has written to the chief electoral officer to call for the ballot box on Rathlin Island to stay.
The Electoral Office is currently consulting on new polling arrangements and is proposing not to have a polling station on the island.
Mr Murphy said he believed the removal would go against the Executive's agreed Rathlin Island Policy.
He said he would discuss the issue with islanders during a visit on Saturday.
He will be accompanied by the Republic's Minister for Community, Equality and Gaeltacht Affairs Pat Carey.
"One of the strategic aims of the Rathlin Island Policy is to enhance community involvement," Mr Murphy said.
"I consider that asking the electorate to either travel to Ballycastle to vote or to apply for a postal vote does not encourage such involvement and would further serve to isolate the community."
Rathlin, which lies off the coast of north Antrim, is Northern Ireland's only inhabited offshore island.