C. diff inquiry - isolation areas 'not improved'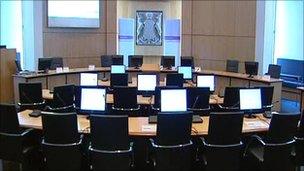 An inquiry into a C. diff superbug outbreak at Antrim Area Hospital has heard few improvements have since been made to its isolation area.
The panel is reviewing how many patients died, either directly or indirectly from the infection between June 2007 and August 2008.
A&E consultant Dr Olivia Dornan said conditions were not ideal for treating patients or containing infections.
She said there was a lack of space and isolation areas for affected patients.
The inquiry has already established that the number of people who potentially died from the outbreak could be in the region of 31 people.
The hearings on Friday mark a new stage in the inquiry, as Northern Health Trust staff have begun giving evidence.
Dr Dornan said a significant increase in patients meant the department was under a great deal of pressure, even before the C. diff outbreak.
Some patients faced long waits on trolleys before being treated, she told the panel.
She said affected patients were segregated rather than isolated.
While she acknowledged improvements in staffing levels, cleaning audits and general hygiene, little had been done since the outbreak to improve the hospital's isolation area.
Dr Dornan's comments about the lack of improvements to isolation facilities were echoed by a nurse.
Catherine McCoy, who was a band six assistant clinical sister, told the panel there was still no en-suite facility in the isolation area.
She said that during the outbreak, the room did not have adequate storage for laundry or incontinence pads which caused difficulties for patients and staff.
She said this particular isolation unit had no call bell, which meant patients often had to get out of their bed to look for help.
The time frame being covered by the inquiry is between June 2007 and August 2008 as during that time C. diff infection levels exceeded the normal baseline rates within the Northern Health trust.
The independent panel, which began hearing evidence last week, is chaired by Dame Deirdre Hine, who led the independent review into swine flu.
The inquiry is expected to deliver its final report and a list of recommendations to Health Minister Michael McGimpsey before the end of the year.
Related Internet Links
The BBC is not responsible for the content of external sites.