Party awaits Commonwealth gold winning boxing champion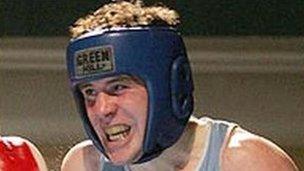 Preparations are underway to welcome home gold medal winning Dungiven boxer Eamonn O'Kane.
O'Kane was captain of the Northern Ireland boxing team that won three golds and two silvers at the Commonwealth Games in Delhi.
He beat England's Anthony Ogogo 16-4 in a one-sided middleweight final.
The boxers' gold medals were Northern Ireland's first taste of gold at the Commonwealth Games in 16 years.
O'Kane's wife Nicola said the whole of Dungiven was talking about him.
"It's going to be absolutely crazy," she said.
"We are extremely proud."
He is expected at Dungiven community hall at 1930 BST.
O'Kane's 13-month-old son Charlie will be among the revellers.
"He's too young to understand," Nicola said, "but he kind of realises something's different here, and he's excited too to see his dad."