Body found in search for 'disappeared' man Gerry Evans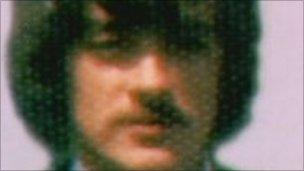 Human remains believed to be those of one of the disappeared, Gerry Evans, have been taken to Dublin for formal identification.
The Independent Commission for the Location of Victims' Remains (ICLVR) said the remains were found in Carrickrobin in County Louth on Friday.
The Crossmaglen man was last seen in 1979 in Castleblayney, County Monaghan.
The 24-year-old was believed to have been kidnapped and murdered by the IRA.
Last month the commission called off a 16-month search for his body.
However, in a statement issued on Friday the commission confirmed that human remains had been found at the search site in Carrickrobin.
BBC NI district reporter Gordon Adair, speaking from the scene, said that he understood that no new information had been provided to the commission since the original search was called off.
However, he added that there may have been a clarification of the original information.
The Evans family and a hearse arrived at the site in late evening. A prayer was said before the hearse took the remains to Dublin for formal identification.
Sinn Fein president Gerry Adams said the discovery was "welcome news".
"My thoughts are with the Evans family at this difficult time as they await confirmation," he said.
"I would appeal for anyone with any information that might help other families locate remains and find closure to bring that information forward."
The family lived a few doors from the home of Charlie Armstrong, whose remains were found in June.
Gerry Evans was last seen hitch-hiking in County Monaghan.
Speaking after the original search was called off, his brother Noel said the family were very disappointed.
The ICLVR was established in 1999 to obtain information in strictest confidence which may lead to the location of the remains of the disappeared - those killed and buried in secret by banned paramilitary groups prior to 10 April 1998 as a result of the Troubles.
Sixteen people were murdered by republican paramilitaries and secretly buried in isolated areas of Ireland during the Troubles.
Nine bodies have yet to be found.
In 1999 the IRA admitted responsibility for killing and secretly burying nine of the 16, while one was admitted by the INLA.
Related Internet Links
The BBC is not responsible for the content of external sites.