Man charged with conspiracy to murder in County Tyrone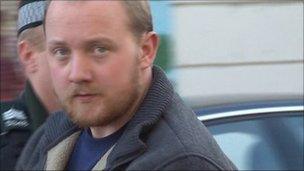 A man has appeared in court in Omagh, County Tyrone, charged with conspiracy to murder and firearms offences.
Daniel John Turnbull, 30, who is from Strule Park in Omagh, faces nine charges in total.
The court was told he was a passenger in a car stopped by police in Cookstown on Monday. All four men in the vehicle were arrested on suspicion of dissident republican activity.
Mr Turnbull was refused bail.
He will appear again by videolink at a court in Dungannon next month.
The other three passengers in the car stopped in Cookstown were remanded in custody when they appeared at a court in Strabane on Friday.
In court on Saturday, a detective constable said a large number of items had been found in a car belonging to the defendant.