Official declaration of c. diff outbreak 'too late'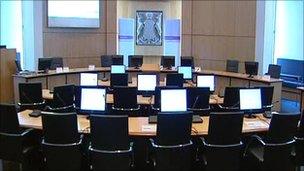 A cleaner has told a public inquiry that a C. difficile outbreak three years ago should have been declared sooner because of the number of people being infected.
The inquiry at Antrim Civic Centre heard evidence from members of staff for the first time on Friday.
Avril Walker, a domestic cleaner at Antrim Area Hospital, said that her workload trebled during the outbreak.
She said she was aware of the problem three months before it was declared.
She added that there was a general feeling on her ward that it was not a normal infection.
The outbreak in the Northern Trust area has been linked to 31 deaths in 2007 and 2008.
Earlier on Friday, an A&E consultant Dr Olivia Dornan told the inquiry that even before the outbreak, the hospital was under a lot of pressure with patients having to wait a considerably long time on trolleys.
She added that it was not an environment where either her or any of the other staff wanted to treat patients.
By the time the outbreak was declared in January 2008, she said, space was so limited that patients were being segregated as opposed to isolated.
Related Internet Links
The BBC is not responsible for the content of external sites.