Ervine's brother is elected new PUP leader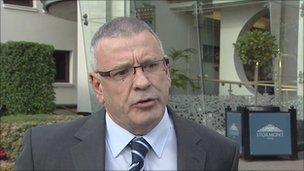 The Progressive Unionist Party has elected a new leader.
It is Brian Ervine, brother of the former PUP leader David Ervine who died more than three years ago.
Meanwhile, two PUP members have announced they are leaving the party. They said they were going on good terms, but it was not the party they joined.
Mr Ervine, a teacher, has said he wants to carry on his brother's legacy.
The party's last leader, Dawn Purvis, left the PUP because of its ties with the UVF which was believed to be behind the murder of Bobby Moffett on the Shankill Road in June.
Mr Ervine said the PUP must ensure there are no more murders like that of Mr Moffett.
He encouraged "progressive elements" to help "clean up criminality on our streets"
"One cannot profess to be a good loyalist or unionist and be a drug dealer or a parasite on their own community," he added.
Mr Ervine has defended his decision to support the retention of links with the UVF.
"I believe that the channels should still be opened and in the great scheme of things over the past 10 years there hasn't been a complete cessation, but it has eased tremendously," he said.
"That's due to progressive men in those organisations and the restraining influence of the PUP."
Dr John Kyle had been standing in as interim leader since Dawn Purvis' resignation.
Related Internet Links
The BBC is not responsible for the content of external sites.