Sinn Fein say fewer MLAs will damage local politics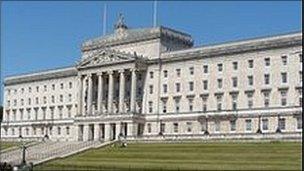 Sinn Fein claim proposals to change the size and shape of the Assembly will damage politics in Northern Ireland.
Plans currently being debated at Westminster, to cut the number of NI MPs, are expected to also lead to a reduction in the number of MLAs.
The plan is to reduce the number of MPs at Westminster from 650 to 600 under boundary changes.
This could lead to a reduction in the number of MLAs from 108 to 90.
The government wants each constituency to be roughly the same size and has suggested that each seat should have an electorate of around 75,000 people.
Only two seats in Northern Ireland are above this figure.
They are Upper Bann currently held by the DUP's David Simpson and Newry and Armagh which is represented by Conor Murphy of Sinn Fein.
The seats with the lowest numbers are East Belfast and West Belfast which both have electorates of 60,000.
South Belfast, East Antrim, North Down and Strangford have 61,000 voters.
In West Tyrone, the electorate sits at 62,000 with 2,000 more in East Londonderry.
The reduction of Westminster seats would have a knock on effect at Stormont since MLAs are elected using the same boundaries.
So if three Westminster seats were scrapped that would result in the same number of Stormont constituencies going as well.
At Stormont, six assembly members represent each seat, so a cut of three could reduce the number of MLAs from 108 to 90.
South Belfast MLA Alex Maskey said such a move would only reinforce existing shortcomings in the system.
"In west Belfast there's no unionist representation, that's not right," he said.
"In east Belfast and east Antrim there's no nationalist representation and neither is that right.
"It is more appropriate for us and I think more important for us to try to make sure that what we're doing politically is to maximise people's involvement and inclusivity through their representative."