Tribute song for snooker star Alex Higgins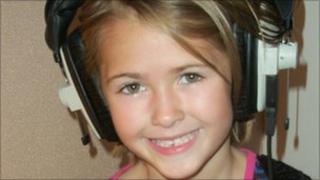 The great niece of Alex 'Hurricane' Higgins has recorded a tribute to the snooker legend who died in July.
Six-year-old Alex Mitchell sang 'Over The Rainbow' at a private family service ahead of her great uncle's funeral in St Anne's Cathedral in Belfast.
Now her version of the song, which was made famous in the Wizard of Oz film, has been released as a special edition CD with a six-page booklet containing pictures of the 1972 and 1982 snooker champion.
It goes on sale on Monday, with 1,000 copies made available exclusively through HMV shops in Belfast.
The recording, which was premiered at the Manchester United v West Brom football game on Saturday, can also be purchased via the internet.
Alex Higgins' former personal assistant, Will Robinson, explained the background to the CD.
"Alex sang this song for her great uncle Alex only two days before he died and he was going to use his contacts to help her with her singing career," he said.
"Alex was brave enough to perform the song again at the funeral where she sang as the cortege left the family home in Belfast.
"A couple of weeks later, I took Alex to record the song in London with Robin Gibb's producer Michael Graves."
The young girl's mother Lynsey said the snooker star "would be proud of his great niece".
Higgins died aged 61 after a long battle against throat cancer.
He clinched his first world title in 1972 as he defeated John Spencer in the final and repeated that triumph 10 years later by beating Ray Reardon.
Past and present stars of the game, including Jimmy White, Stephen Hendry and Ken Doherty were among those who attended his funeral.