Man shot in legs in Londonderry attack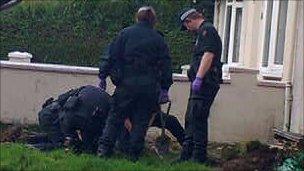 A 20-year-old man has been shot in both legs in a paramilitary-style attack in Londonderry.
Three masked men went into a house in Slievemore Park at about 2130 BST on Sunday before shooting the victim twice.
He was taken to hospital for treatment. His injuries are not believed to be life-threatening.
Police have appealed for anyone who was in the area or has information about the attack to contact them.
The local SDLP councillor Shaun Gallagher said no one knew why the man had been shot.
"No one will ever know, " he said. "I think like everybody else, we are absolutely appalled.
"We've left those days behind but unfortunately some people are determined to try to drag us back.
"I would appeal for anyone with any information to contact the police, because we cannot have this law of the jungle."