Economic conference to create 'hundreds' of NI jobs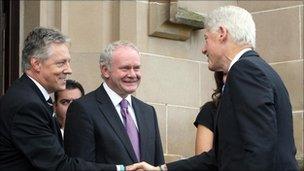 Hundreds of jobs will be created in Northern Ireland as the result of an investment conference in Washington, according to the deputy first minister.
Martin McGuinness and the First Minister Peter Robinson have travelled to the US to meet with more than 20 major American companies.
Mr McGuinness said he is confident he can encourage firms to invest in Northern Ireland.
He said: "I do expect there will be hundreds of new jobs.
"Even at the conference I expect there will be announcements about a small number of jobs."
Mr McGuinness said big companies, including the New York Stock Exchange, have already created a substantial number of jobs for workers in Northern Ireland and he expects this level of investment to continue.
"I believe the foundation stone has been laid and we are seeing that in the coming of Universal and HBO to Belfast and the fact that hundreds of people from Northern Ireland are employed in those projects," he said.
"The decision by the New York Stock Exchange to provide 400 jobs leads us certainly to believe that US companies, even at a time of economic recession, are considering their options in regards to investment here."
The event on Tuesday will be hosted by the US Secretary of State Hillary Clinton.
Last month, her husband, former US president Bill Clinton, stressed the importance of inward investment during a visit to Northern Ireland.
Mr McGuinness said enticing foreign investors to Northern Ireland is a key priority ahead of the Spending Review.
"I think we have to intensify our efforts to encourage as much foreign and direct investment as possible," he added.