First section of Derry's peace bridge is put in place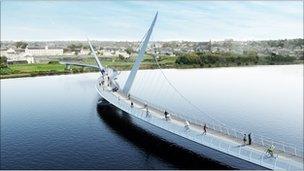 The first section of Londonderry's new £13m peace bridge was put in place on Monday morning.
The sections of the bridge are being assembled on a 1057 tonne, 53 metre barge called the Forth Atlas.
Over the course of the week, the barge will make several journeys along the River Foyle.
It will carry the sections of the bridge from Lisahally Docks to the construction site at Ebrington.