Car set on fire in Londonderry in 'sectarian' attack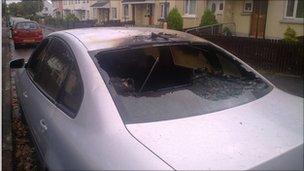 A car has been set on fire in the Irish Street area of Londonderry.
The vehicle was parked in Bann Drive when it was set alight early on Monday.
A resident said she was terrified to discover the car on fire outside her home. The woman, who did not own the car, was with her young child in the house in Bann Drive at the time.
DUP councillor Drew Thompson said he believed the attack was sectarian.
The attack followed a recent incident in which more than 30 cars were vandalised in the area.
Waterside Sinn Fein councillor Lynn Fleming said the people responsible were "nothing but thugs".
A police spokesperson said the PSNI was aware of some "fairly serious incidents" taking place in the vicinity of Irish Street.
"A dedicated team had been put together to look at recent incidents. However, everyone must play their part to resolve the issues in the Irish Street area," the spokesperson said.