Glasnevin cemetery to honour Irish war dead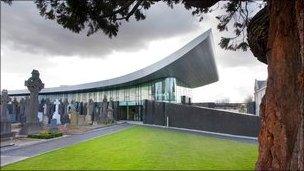 More than 40 Irish servicemen who fought with Commonwealth regiments during the two world wars are to be honoured in a ceremony on Armistice Day.
The 43 men and women currently lie in unmarked graves in Dublin's Glasnevin cemetery.
However, as part of the ceremony on 11 November headstones will be erected on their graves.
Many of the servicemen and two women died of illnesses such as influenza and consumption in hospitals in Ireland.
Others died of the wounds they suffered in battle, while one, 55-year-old Robert Glaister of the Royal Naval Reserve, was shot dead in Dublin during the Easter rising of 1916.
Glasnevin Trust has invited any family members or relations of the dead to get in touch ahead of the ceremony.
Glasnevin Trust historian Shane MacThomais researched the stories of the 43, including a visit to Britain's National Archives in Kew in England where he researched their military records.
As well as the first and second world wars, some had taken part in other conflicts such as the Boer War, the Boxer Rebellion in China and the Zulu War.
The chairman of Glasnevin Trust, John Green, said: "We would urge families that can attend to do so.
"It will be a wonderful opportunity to bear witness to the honouring of their relative's noble deeds in pivotal times for world democracy."
"Families may wish to contact our historian Shane MacThomais who has additional information about the deceased or use our online genealogical search facility which contains full burial records by logging on to Glasnevin Trust genealogy."
Glasnevin Cemetery is the largest nondenominational cemetery in Ireland and first opened in 1832.
Along with the Commonwealth War Graves Commission, Glasnevin Trust began the project of marking the graves of servicemen in November last year, when headstones were erected at the graves of four Irish volunteers.
Man Irish people who served with British or Commonwealth forces faced ostracism after their return home, particularly after WWI.
Almost 50,000 people from throughout Ireland were killed in WWI, while more than 5,000 Irish volunteers died in WWII.
Related Internet Links
The BBC is not responsible for the content of external sites.