From spa to spartan - the new taste in holy mountains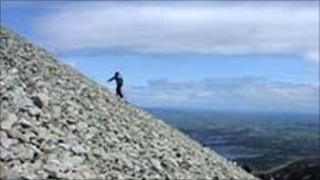 Fancy a three-day diet of rosaries, black tea and dry toast ... what about a hike up a holy mountain in your bare feet?
Irish tourism chiefs are finding that holidaymakers are looking for a break which is a little more demanding.
Just as Ireland's age of prosperity has given way to an age of austerity, a new breed of tourists wants a break with a spiritual dimension.
Even before Julia Roberts' spiritual quest in the film, Eat, Pray, Love, tastes had shifted from spa to spartan.
The holy Catholic pilgrimage site of Lough Derg requires visitors to fast on black tea and dry toast for three days, clamber barefoot around 'station' beds of sharp stones as they pray and keep an all night vigil on the island.
The traditional Lough Derg 'soup' for pilgrims used to be hot water from the tap flavoured with salt and pepper.
Strangers poked fellow pilgrims helpfully in the back at early morning Mass after the vigil, to wake them up as they nodded off in the church pews.
And visitors to Ireland's Holy Mountain of Croagh Patrick in County Mayo have added to the agony of scaling its steep slopes by shedding socks and scrambling to the top, barefoot.
Martina Bromley, product manager for Irish tourism board, Failte Ireland in the north west of Ireland, said it is the era of the spirituality break
"What we are finding is that people are trying to connect with their inner selves," she said.
"They are trying to get that time out and, when we see challenging times and economic times that are really probably driving people to an edge, this type of holiday really has an appeal.
"It is the counterpart to the spa and wellness breaks. About 10 years ago, everybody was going for the massage and the jacuzzi and the luxury of that. But now people are wanting to find a sense of themselves."
Irish tourism chiefs believe there is a huge potential for religious and spiritual heritage tourism. They hope to attract tourists from Germany, America and the UK.