NI schools wanted for London 2012 competition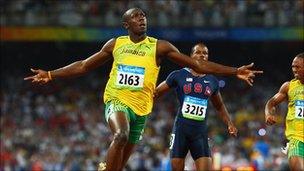 Schools in Northern Ireland are being encouraged to take part in a unique competition to get to know Olympic athletes from around the world.
BBC World Class and the British Council are looking for dozens of primary and secondary schools from across the UK to twin with the former schools of champions, like sprinter Usain Bolt and basketball star Luol Deng.
The Olympic Dreams School Search is aimed at teaching children about their chosen athlete ahead of the London Olympics in 2012.
BBC World Class says it has been inundated with applications from teachers and pupils across the UK but it has only had a handful of entries from Northern Ireland.
Emma Till from BBC World Class says she is eager to see more applications from NI schools before the closing date for submissions on 31 October.
She added: "I don't know why we haven't had more entries from Northern Ireland. We are keen to see more schools take part.
"Around 50 athletes' schools from the UK and abroad are involved. Usain Bolt is one of the athletes. There are two schools in Jamaica who are really excited to take part.
"Luol Deng, the NBA basketball star, is also involved along with the Australian swimmer Emily Seebohm's school. She just won eight gold medals at the Commonwealth Games."
Over the next 18 months the winning schools will follow athletes' stories as they prepare for 2012.
Emma added: "It all kicks off in January. We are hosting an event with the British Council for teachers and students over 16 to meet together and take part in 2012 themed events.
"Then over the next 18 months all of the schools will get to know each other and will receive a visit from a teacher from their twinned school.
"The schools will receive support from the BBC and the project. There will be videos and radio and online updates.
"It's a great chance to introduce Northern Ireland schools to the world."
Teachers can register for the competition online and must then help their students to creatively answer a host of questions about the Olympic Games.
The winners will be chosen by BBC World Class and the British Council at a later date.
Related Internet Links
The BBC is not responsible for the content of external sites.