Red Sky says reports are damaging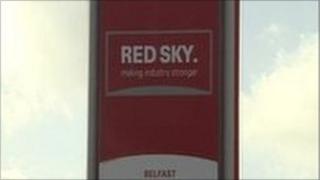 An east Belfast company at the centre of an investigation into its work for the NI Housing Executive (NIHE) has acknowledged there were problems with one of its contracts.
A BBC investigation had highlighted concerns over NIHE payments to Red Sky.
It found in some cases, primarily in west Belfast, the work paid for was incomplete, or sub-standard.
Red Sky denied suggestions of sub-standard work or financial irregularities.
In a statement issued to the BBC on Monday, Red Sky managing director Norman Hayes said that morale had been damaged by the reports but conceded that the company had some early "difficulties" with the contract.
After the BBC reported the findings, Minister for Social Development Alex Attwood confirmed that his department was examining the relationship between Red Sky and the Housing Executive.
Mr Hayes said that news of the investigation came as a "total surprise" to the company.
'Open and transparent'
"We had some difficulties in the early part of our contract delivery in west Belfast in 2007 and 2008.
"Since that time the Housing Executive's own system shows that Red Sky has been continually improving delivery in west Belfast."
The BBC investigation unearthed documents which showed that NIHE staff had repeatedly raised concerns about the standard of work carried out by the company, primarily in west Belfast in 2007 and 2008.
Some of these works were paid for despite senior housing executive managers being aware of the concerns of staff on the ground.
Mr Hayes said that morale had been damaged by the reports and called for a "fair, open and transparent" review of its relationship with NIHE.
He added: "We are willing and ready to engage with the minister, with local representatives and with the Housing Executive to put this matter behind us and face into the future with a degree of confidence and stability which surely all of us want for local businesses."