Strong hopes over US investment conference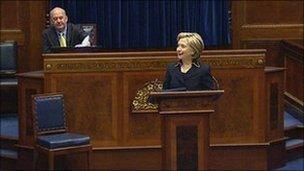 It's only a one-day conference, but as the song says, what a difference a day makes.
Only it will be less than 24 little hours for Hillary Clinton, Peter Robinson and Martin McGuinness when they join forces at the State Department in Washington DC on Tuesday.
The politicians, along with Northern Ireland executives, will meet an elite bunch of blue-chip business people from the United States in the hopes that they will generate some jobs and some much needed investment.
The US economy is struggling out of recession and there are fears that Northern Ireland could face a prolonged downturn.
The conference comes as the Chancellor George Osborne prepares to announce his Spending Review and Stormont braces itself for its share of the bad news.
It doesn't seem like the best time to be holding an investment conference, but there is an air of opportunism around the Washington event.
Business people will tell you this is the time to come to the US capitol to talk to American executives because economic recovery will bring opportunities.
And Colin Hayburn, executive director of Almac, said it was not all a one-way street.
Almac is a homegrown company, headquartered in Portadown, that has become a world leader in pharmaceuticals and biotechnology.
The company currently employs almost 3,000 people - 1,000 of them in the United States. And Almac is keen to expand having just invested $100m (£63m) in its American headquarters in Pennsylvania.
Mr Hayburn, who will take part in the Washington event, described it as an exciting opportunity for growth.
"We're opening a $100m US facility, we're probably a world leader and certainly a leading figure in the US in clinical trial supplies and other Northern Ireland companies have sizable presence in the US," he said.
"So we're looking for partnership rather than handouts."
He insisted a one-day conference could make a difference because it can put executives in touch with a powerful network of potential contacts and investors.
"That day will be fairly intensive, also that day will be to make introductions and get a feel for who you're talking to," he said.
"They'll be no real business maybe done on that day, but you'd make introductions where business can follow on from that day."
Hillary Clinton - the US secretary of state who has forged close links with Northern Ireland - is keen that peace should also bring prosperity.
And she is overseeing the conference.
It follows her efforts to encourage the transfer of policing and justice powers to Stormont, a message she personally delivered to the assembly in October 2009.
When Peter Robinson and Martin McGuinness agreed a timeline for the transfer as part of the Hillsborough deal in January, talk of a US initiative took root.
And in July, Secretary Clinton confirmed the date it would take place.
First Minister Peter Robinson told the BBC the importance of the event should not be underestimated.
"These are global leaders and we have an excellent opportunity to show what we have on offer in Northern Ireland and I don't think we have ever done an investment conference without having some positive outcome of it," the first minister said.
"Martin McGuinness and I went over to the west coast and we spoke to HBO and Universal Studios, both of whom came back with major productions in Northern Ireland."
Indeed, the first minister, along with Deputy First Minister Martin McGuinness, officially opened an outpost of the New York Stock Exchange in Belfast's Adelaide Street last month.
And projects like this have encouraged NI's ministers to return to America to seek investment, in the hope that US recovery in the United States will grow the private sector in Northern Ireland.