French strikes force NI flights cancellations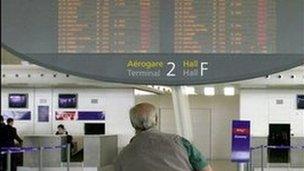 In France, another day of general strikes and mass demonstrations is affecting flights from Northern Ireland.
The protests are in response to plans to raise the state retirement age.
Easyjet has cancelled its Tuesday flights from Belfast International to Nice and Paris.
In the Republic of Ireland Aer Lingus has cancelled one flight from Dublin to Paris, while Ryanair has called off a flight to Nice and one to Rodez.
Tuesday's return flight between Knock and Reus, south of Barcelona has also been cancelled.
The French Aviation Authority had asked airlines to reduce inbound and outbound flights by up to 50% on Tuesday, because of strike action by air traffic controllers.
A week-long blockade of oil refineries in the country has already lead to hundreds of petrol stations running dry triggering panic buying and queues of motorists.
Meanwhile, ongoing work-to-rule action by Aer Lingus cabin crew is not expected to affect the airline's flight schedule.
Workers have refused to accept new rosters introduced by the company and are insisting on taking all meal breaks and not working on rest days.
All passengers travelling to France today are advised to check with their airlines for up-to-date travel information.
Airlines have also said that customers may experience difficulties in accessing public transport at French airports.
Related Internet Links
The BBC is not responsible for the content of external sites.