Fear that Derry shooting victim 'could lose use of leg'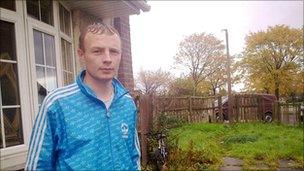 The family of a man shot in Londonderry on Sunday night said they fear he could lose the use of his right leg
Gary McGuinness from Slievemore Park had surgery at Altnagelvin hospital after he was shot in both legs.
The dissident republican group, Republican Action Against Drugs, told local newspaper The Derry Journal it carried out the shooting.
However, his family said they could not understand why he had been targeted.
His brother, Harry McGuinness, denied his brother was involved in drugs.
"I can put my life on that," he said. "He doesn't do drugs.
"Ok, boys will be boys, but he is definitely not a drug dealer and he has never been associated with drugs."
His sister, Sharon, said the shooting had had a devastating effect on the family.
"We're barely able to sleep or eat, we're just worried sick about him constantly and want to be there for him.
They took him into the garden and shot him once in each leg.
"My mammy hasn't slept one minute."
Gary McGuinness was shot after three masked men went into the family's home at 2130BST on Sunday.
Police have appealed for anyone who was in the area or has information about the attack to contact them.
The local SDLP councillor Shaun Gallagher said no one knew why the man had been shot.
"No one will ever know, " he said. "I think like everybody else, we are absolutely appalled.
"We've left those days behind, but unfortunately some people are determined to try to drag us back.
"I would appeal for anyone with any information to contact the police, because we cannot have this law of the jungle."
Related Internet Links
The BBC is not responsible for the content of external sites.