Man admits manslaughter of Derry pizza man Emmet Shiels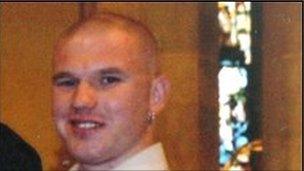 A 20-year-old Londonderry man has admitted killing pizza delivery man Emmet Shiels in the Creggan area of the city in June 2008.
The murder trial at Belfast Crown Court was halted on Monday when Gary Meenan, from Bishop Street, instead pleaded guilty to manslaughter.
He also pleaded guilty to three charges of assault and possessing a gun with intent to cause fear of violence.
An additional charge of attempted murder was left on the books.
The shooting victim, 22-year-old Emmet Shiels from Tyrconnell Street in the Bogside, was delivering pizzas when he was killed during a confrontation with masked gunmen.
About 1,000 attended a vigil near the scene in the days after his death.
When the trial opened last week, the court was told that Meenan was a member of an armed and masked gang, which had the "characteristics of a paramilitary gang" that was "openly carrying firearms" in the Bligh's Lane area of Derry.
Mr Justice Hart was told that a member of the gang fired at least two shots from close range at a group of young people, who had tried to chase them, and that was when Emmet Shiels was fatally wounded.
Custodial sentence inevitable
Meenan's girlfriend, 20-year-old Nadine Kelly from Celandine Court in Derry, pleaded guilty to perverting the course of justice by giving Meenan a false alibi.
The prosecuting QC Terence Mooney said that changing Meenan's plea to manslaughter was "acceptable in the interests of justice", and he said he would expand on that when Meenan and Kelly are sentenced.
Kelly was released on bail pending the preparation of a pre-sentence report, but Meenan was remanded in custody.
Mr Justice Hart said he could not grant Meenan bail because by entering a guilty plea he had accepted being part of the gang that had fired the fatal shot.
He said, "The nature of such activity is such that an immediate custodial sentence is inevitable."
Sentencing was adjourned until 19 November.