Special police unit tackles Waterside interface crime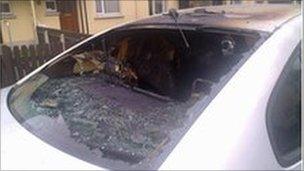 Police have set up a dedicated unit to investigate a spate of attacks on cars at a sectarian interface in Londonderry.
About 30 vehicles were damaged in the Irish Street area around a fortnight ago and on Monday a car was destroyed in an arson attack.
At least two cars were damaged in a separate incident at nearby Knockwellan Park last week.
Police say they are examining Closed Circuit Television footage.
"We are aware there have been a number of fairly serious incidents in the area, " a police statement said.
"This is a situation that is causing considerable distress for some residents.
"The neighbourhood team will continue their work with the local communities, however everyone must play their part to resolve the issues in the Irish Street area."
DUP councillor Drew Thompson said he believed the arson attack on Monday was sectarian.
Sinn Fein councillor Lynn Fleming said the people responsible were "nothing but thugs".