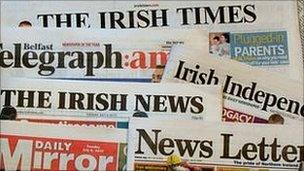 Journalist Fionola Meredith takes a look at what is making the headlines in Tuesday's newspapers.
The row over integrated education continues in several papers.
It was sparked by Peter Robinson's description of the current education system as "a benign form of apartheid", and that went down poorly in the Catholic educational sector.
But Mr Robinson tells the Belfast Telegraph that he's not afraid of the Catholic church, and won't be cowed in his approach to integrated education.
'Ancient unionist gambit'
This seems to be a new Peter Robinson, says Fionnuala O'Connor in the Irish News, a visionary Robinson even, and the faces of his party members when he made the speech must have been a study.
But, she points out, the brave new stance turns out to be the ancient unionist gambit that state schools are open to all, while Catholics are perverse in insisting on their own.
In the News Letter there's support for Mr Robinson from Free Presbyterian minister Brian McClung.
He says it's unheard of anywhere else for one group of schools to get 100% funding to promote their own ethos.
As the Belfast Telegraph's editorial notes, it's difficult to have a debate in this place without it descending into tribalism.
But the paper seems to be firmly on the first minister's side on this one. It says that claims he was indulging in rabble rousing were harsh and unfair, and it regrets that the whole thing now seems to be degenerating into a sectarian squabble.
The Times is unimpressed by the defence review.
"HMS Ignominious" is the headline, and the paper doesn't hold back in its criticism of the decision to leave Britain without the ability to launch jet fighters from an aircraft carrier for the next ten years.
It describes the situation a "fiasco" that "raises questions about our ability to project force overseas".
In a leader column, the paper says it's a "humiliating compromise" that "lacks economic sense as well as military logic".
The Guardian has a very different sort of military story. It reports that a budgie, lost off the Devon coast, found a safe perch on a Royal Navy frigate, HMS Westminster.
He was named Bostie by the crew, and given bread, nuts and water in the comfort of an officer's cabin.
But when an alarm sounded on the ship, Bostie keeled over and died from the shock.
A navy spokesman said it was a sad moment for the crew, who buried Bostie at sea.
Less than a week after they were rescued, the Chilean miners are breaking ranks, says the Independent.
It was reported that the men agreed to evenly split the proceeds from selling their stories.
But while some miners have agreed to do interviews for only 40 dollars, other families are said to be discussing fees of 25,000 dollars.
The paper says one man has been doing the rounds on Chilean television, charging 4,000 dollars to talk about how he was meant to have been down the mine on the day that it collapsed but wasn't, because he turned up late for work.
And finally, the Daily Express says that the best time for women to win a pay rise is 6pm.
Apparently, that's when women feel at their most positive, making it more likely to get what they want.
And never have a row with a woman at 3pm, we're told - that's the time when they're most likely to win an argument. It's all down to "hormone-linked bio-rhythms".
Related Internet Links
The BBC is not responsible for the content of external sites.