NI murder accused opts for retrial in Dublin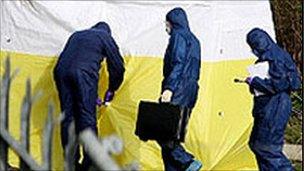 A Belfast man has opted to be tried in a Dublin court for the murder of a taxi driver in Northern Ireland more than three years ago.
Gerard Mackin, 28, was originally found guilty of shooting dead Edward Burns at Bog Meadows in west Belfast.
However, his conviction was quashed by Dublin's Court of Criminal Appeal in 2010 and a retrial ordered.
On Tuesday, he told the Republic's Special Criminal Court he would "like to be tried in this jurisdiction".
The court has already fixed 11 January next year as the date for Mr Mackin's retrial.
He was the first person convicted in a Dublin court for a murder in Belfast under a cross-border anti-terrorist law.
Edward Burns, a taxi driver and 36-year-old father of five, of Prospect Park, Belfast, was shot dead at Bog Meadows on 12 March 2007.
Mr Mackin was also convicted of the attempted murder of Damien O'Neill, the possession of a firearm with intent to endanger life and causing serious harm to Mr O'Neill on the same date.
He was jailed for life for the murder, 15 years for the attempted murder of Mr O'Neill, 10 years for the possession of a revolver with intent to endanger life and 12 years for intentionally causing serious harm to Mr O' Neill.
The court ordered all the sentences to run concurrently.
The conviction was quashed after the appeal court ruled that crucial prosecution evidence had not been properly proven during his original trial.
Mr Mackin, a native of the Whiterock area of west Belfast, with an address at Raheen Close, Tallaght, Dublin, opted for trial in the Republic under the Criminal Law Jurisdiction Act of 1976 which allows suspects to be tried in the Republic for alleged offences in Britain or Northern Ireland.
The law has only been used on three other occasions since it was introduced.