Fighting on the front line for patients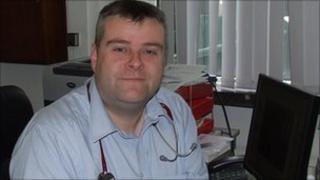 Dr Martin O'Kane works as a GP at the Dalriada Family Practice in Ballycastle.
He fears that budget cuts will reduce the service he is able to offer and wants health spending ring-fenced.
Dr Martin O'Kane is one of three GPs, who with their ancilliary staff, are the face of the health service for more than 4,000 patients in Ballycastle.
With mooted cuts potentially the worst for many years, he is preparing to go in to bat for each of them.
Even as it stands, he maintains that his surgery is not comfortably off in terms of public funding.
While he undoubtedly has a reasonable income, he has not had a pay rise in four years.
Administrative costs are kept very low - when the rent and other overheards are paid, there is very little left in the kitty.
Against such a lean backdrop, the British Medical Association has warned him that he is already facing the prospect of a cut in the surgery budget of £10,000 - with potentially more on the way.
He said: "It is very difficult for all of us to envisage where these cuts could possibly come from without finally hitting the reason we are all here - patient care."
The relatively remote location of the surgery makes his concerns particularly pressing.
Because the nearest acute hospital is 17 miles away along winding, coastal roads, the Dalriada surgery offers semi-acute services without an appointment.
Cuts would mean that would have to be looked at. Reductions would also lead to GPs seeing fewer patients or spending less time with those that they do see, or both.
By far the worst scenario is the prospect of being unable to employ all the people who currently work at the surgery.
"Staffing is something you would probably end up having to look at, if things turn out to be as bad as some people fear they could be," he said.
He admits he is particularly averse to such steps, because he is well aware of how important the public sector is as an employer in the area.
"It would be the last thing we would want to do, but nothing can be ruled out in those circumstances."
Dr O'Kane feels very strongly that services are already so pressured that the NI Executive has only one option - to follow its counterparts in England and Wales and ring-fence health spending.
"The health minister has pledged that he wants to protect front-line services.
"We are on the front line and we need him to deliver on that promise."