Irish dancers' cars badly damaged in Derry arson attack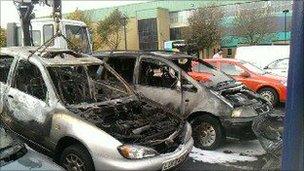 Three cars that were left in Londonderry while Irish dancers travelled to a competition in Mullingar have been destroyed in an arson attack.
Firefighters said they believed the fire was started in one car and spread to the others.
One was badly damaged and two were completely destroyed but a fourth belonging to the group was unmarked.
The group's bus had just arrived in Mullingar last Sunday when the police rang to inform them of the attack.
Their cars had been left at Templemore Sports Complex, the spot where the bus picked up the group.
The fire service were called to the scene at around 0730 BST on Sunday.
Caroline Temple from The Walled City School of Dance said the families had been left very upset
"The children, we didn't tell until they had finished dancing and they were obviously very upset then," she added.
Sinn Fein Assembly Member Martina Anderson said the attack was a disgraceful act.
"Here we have youngsters going to represent our city and then this happens," she said.
"Families have been left without a car, something no one in this day and age can afford, never mind all the hassle of having to go though insurance."