Medical discharge for Massreene attack soldier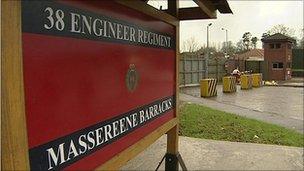 A soldier injured in a dissident republican shooting has been discharged from the army on medical grounds.
The sapper suffered multiple injuries including leg wounds in the Real IRA attack outside Massereene army base in Antrim in March 2009.
Sappers Patrick Azimkar, 21, from London, and Mark Quinsey, 23, from Birmingham, were killed in the attack.
They were accepting a pizza delivery when they were ambushed at the gates of the army base.
An MoD spokesman confirmed: "He was one of those injured at the time of the shooting. He was very seriously injured. He has been discharged on medical grounds."
He added: "He received a number of wounds including an injury to the leg."
His 38th Engineer Regiment are in the process of moving from Massereene barracks to Aldergrove.
The soldiers who were killed were due to be deployed to Afghanistan.
Two people were killed and four were injured in the incident, including two pizza delivery drivers.
The soldiers' deaths came two days before Constable Stephen Carroll, 48, was shot dead by another dissident group, the Continuity IRA, as he attended an emergency call-out in Craigavon, County Armagh.