Elderly people in NI 'living in fear of cuts'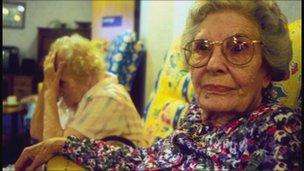 Elderly people in Northern Ireland are facing high levels of anxiety ahead of the Spending Review, a survey has found.
The Centre for Ageing Research and Development has found considerable fear amongst the pensioners over reduced incomes, higher taxes and cuts in vital services.
It said senior citizens in Northern Ireland were at a significant risk of poverty when compared to their GB and Irish Republic counterparts.
Single pensioners living alone were found to be most at risk with the number rising by 10,000 or 57% in the last six years.
The research was funded by CARDI's cross-border ageing research grants programme.
Professor Paddy Hillyard of Queen's University in Belfast led the team which carried out the report.
"We found that the recession is having an impact on older people as many pensioners have significant concerns about the cuts in incomes and services that may lie ahead," he said.
"Many who had looked forward to a comfortable old age are now fearful of facing financial hardship."
Professor Hillyard said older women across the island of Ireland had a slightly higher risk of poverty than men.
He added: "The findings show the importance of protecting at-risk pensioners and addressing the inequalities that exist within the older population."
The study also suggested there were significant inequalities within pensions between public and private workers.
It said tax incentives for private pension provision were heavily weighted in favour of wealthier people.