PR expert says media interest in C.diff was 'valid'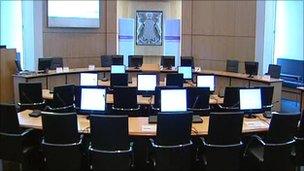 A public relations expert has told the inquiry into the C. difficile outbreak, that the media has a legitimate interest to interrogate the NHS as it is accountable to the public.
Professor Anne Gregory told the inquiry that openness is essential when dealing with hospital acquired infection.
The inquiry was set up to examine the circumstances surrounding NI's biggest hospital superbug outbreak.
It has already established that 31 people died from the outbreak .
Professor Gregory is director of the Centre for Public Relations Studies at Leeds Metropolitan University and her clients include the Department of Health and the NHS.
She told the panel that good PR should involve a crisis management team and one should be in place and ready to deal with issues such as C. diff.
The inquiry heard, that in her opinion, a crisis plan should determine the appropriate spokes people including media-trained external experts.
Earlier this week, the chairman of the Northern Health Trust and the Head of Communications said that in hindsight, a crisis management team should have been in place and that the communications department should have had a better understanding of the hospital superbug.
While it is not part of the inquiry's remit, the panel has decided to explore how hospital information was communicated to journalists.
The independent panel is reviewing the number of patients who died in Northern Trust hospitals, directly or indirectly as a result of clostridium difficile, between June 2007 and August 2008.
On Monday the inquiry heard that the Northern Health Trust board was aware of the C. diff problem five months before an outbreak was declared.
It is sitting at Antrim Civic Centre and is due to report by the end of the year.