Man shot in legs in Londonderry attack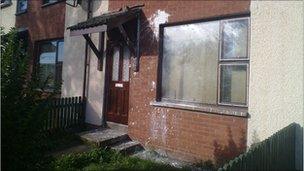 A 48-year-old man has been shot twice in each leg in a gun attack in Londonderry.
Four masked men in dark clothing went into a house in Carnhill at about 2140 BST on Tuesday evening before firing a number of shots.
The victim was taken to hospital for treatment.
On Sunday night, another man in Londonderry was shot in the legs in what police described as a paramilitary-style attack.
SDLP Foyle MP Mark Durkan said this latest attack was "horrific".
"Carnhill is a quiet and stable neighbourhood, and people in the area don't want anything like this going on," he said.
"Some people talk about dissident activity as though it's just hoaxes and things that aren't real.
"It is very real: it creates real hurt, it creates real shock, it creates real damage and they use real intimidation and manipulation. These people are very ruthless and that needs to be understood."