Emmet Shiel's family and the mother of his killer hug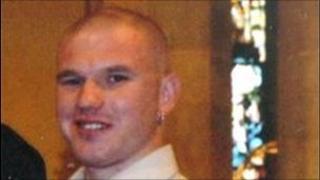 The family of Emmet Shiels and the mother of his killer embraced after he admitted killing the pizza delivery man.
The mother of the killer, Gary Meenan, and Mr Shiels' relatives hugged outside Belfast Crown Court.
The high-profile murder case was halted on Monday when Meenan pleaded guilty to manslaughter.
Mr Shiels, a 22-year-old from Tyrconnell Street in the Bogside, was shot dead in Creggan in June 2008.
His killing caused widespread revulsion and 1,000 people attended a vigil at the scene in the days after his death.
Meenan, a 20-year-old from Bishop Street in Derry, is due to be sentenced on 19 November.
Emmet Shiel's brother Kevin Moore said that Meenan's mother had shown his family great compassion.
"As Gary Meenan's mother said to me up at the court, 'I'm standing behind Gary, but I'm not standing in front of him, and Gary needs to be punished for what he did'.
"For a mother to say that, especially to the family of the victim, it is a very brave thing," he said.
Mr Shiels' sister, Maureen Wilkinson, said she wanted to return the compassion that Meenan's family had shown.
"At the end of the day, their son did not go out that night to deliberately do this but, nevertheless, he's done it and the family are so remorseful on his behalf.
"I wish he would show the same remorse," she said.
Justice is done
Mr Shiels was shot after he was caught up in a confrontation with an armed gang while he was delivering fast food.
It emerged during Meenan's trial that the gang fired at least two shots from close range, after they had been chased by a group of young people and that was when Mr Shiels was killed.
Mr Shiel's girlfriend was pregnant when he was shot. Six days after his killing, she gave birth to a son, who is now aged two-and-a-half.
His brother Kevin said: "Emmet was a good, loving person, who was working two jobs to try to make a nice, stable life for his partner and soon-to-be child.
"He just never got the chance to do it."
However, the family said justice had now been done.
"It doesn't get any easier dealing with what happened," his sister Maureen added, "but we have got some sort of justice for him."
Meenan's girlfriend, 20-year-old Nadine Kelly from Celandine Court in Derry, pleaded guilty to perverting the course of justice by giving Meenan a false alibi.
She was released on bail pending the preparation of a pre-sentence report, but Meenan was remanded in custody.