Stormont 'has room for improvement', survey finds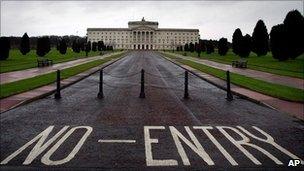 Three-quarters of people in Northern Ireland feel the present system of devolved government need to improve, a survey has found.
A public attitudes survey commissioned by the Assembly found a minority feel they have a say in how NI is run.
It suggested just a quarter of people were satisfied with its work. Of those surveyed, 38% were dissatisfied.
The survey found many people were confused between the roles of the Assembly and the Executive.
While most knew Assembly members are responsible for representing the interests of their constituents, three-quarters incorrectly believed that MLAs were also responsible for making decisions on how Northern Ireland is governed.
Two in five said they were interested, while only a quarter felt they had some knowledge.
However, the survey found there was significantly more interest in local issues such as crime, education, healthcare and the economy - issues which are dealt with by the Assembly.
It warned that low awareness of the Assembly's work could lead to apathy.
"Emphasising the difference between the (Assembly and Executive) may be a good starting point in the communications process to increase engagement," it said.
Between December and early January, 1,025 adults were questioned about their views for the survey.
Related Internet Links
The BBC is not responsible for the content of external sites.