PSNI investigate Portaferry falcon shooting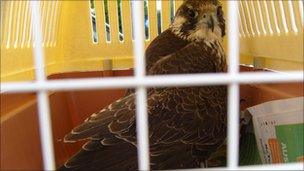 Police are investigating the shooting of a peregrine falcon as fears emerge that the incident is the latest in a series of attacks on birds of prey.
The falcon was found by a member of the public by a roadside in Portaferry on Saturday.
It had to be put down by a vet after shotgun pellets were discovered in its wings.
Police in Ards are treating the shooting as an incident of wildlife crime.
A police spokesperson said: "Birds of prey are protected by law within the Wildlife (NI) Order 1985 and are afforded the highest level of wildlife protection.
"Anyone with information regarding the persecution of protected wildlife should come forward as doing so will help make sure those responsible go before the courts."
Local MLA Jim Wells, who is chairman of the Northern Ireland Raptor Study Group, said the loss of the bird was very worrying as there are only 71 breeding pairs of peregrines in Northern Ireland.
"They are fighting their way back from pesticide posioning which almost wiped the population out; now we get these unfortunate incidents, some of them accidental and some of them deliberate," he said.
"There's no history of bird of prey persecution in that area so I suspect this was accidental, but it's still an awful loss to the population."
Mr Wells said that in west Belfast, the Belfast Hills, South Armagh and east Londonderry birds of prey were under serious threat from humans.
"These areas are where we have awful problems with bird of prey persecution, particularly from a very rogue element from the pigeon fancying fraternity."
He said that peregrines were easy to blame for pigeon deaths even though there were many other dangers.
"We'd like to work with the pigeon fraternity to try to reduce losses but unfortunately, while in most areas they're very happy to stand and talk and be reasonable, there are one or two really dark patches of Northern Ireland where there's just no reasoning with these men and they simply go out and take the law into their own hands."
The MLA called for stricter enforcement of laws designed to protect the birds.
"The only way we are going to stop this is for the individuals who are caught deliberately persecuting birds of prey to face the full rigour of the law."
"There is a £5,000 fine for anyone caught doing this. We need a high profile prosecution to indicate to those involved that this simply won't be tolerated."
Related Internet Links
The BBC is not responsible for the content of external sites.