Convicted fraudster is denied access to RUC files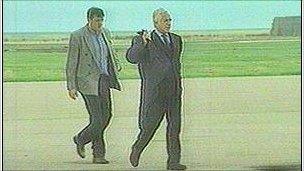 A man appealing a conviction for a £1.4m fraud plot will not be given access to intelligence documents.
Luigi Marotta, 64, was sentenced to five years in jail in 2000 for conspiracy to defraud the Londonderry-based St Brendan's Liqueur Company.
A man claiming to be a police agent said he helped secure the conviction.
Marotta's lawyers had hoped the documents would show that entrapment may have been used by the security forces.
A three-judge panel, sitting in a Belfast court on Wednesday, ruled that the intelligence documents contained nothing relevant to his planned appeal.
Using the name Kevin Fulton, the informer said he had worked under cover for the RUC's anti-racketeering unit.
However, it has been alleged that Fulton introduced Mr Marotta, also known as 'The Teflon Don', to two co-conspirators before the fraud was organised in 1997.
Brian McCartney QC, for Marotta, told the Court of Appeal that Fulton's involvement was not fully known during the original trial.
"There are a whole range of questions which obviously relate to his role in the background of this matter," he said.
"If, as a result of his (Fulton's) activities, the applicant was charged with conspiracy then those activities should have been properly outlined.
"In those circumstances he almost certainly would have been a witness at the trial and the issue of entrapment could have been properly explored."
Marotta has claimed that when he was introduced to the two co-accused in June 1997 he was offered computer parts.
The court heard that at this stage the cashing of cheques was allegedly mentioned.
Mr McCartney said his client rejected this idea and further proposals because he believed the men were untrustworthy.
The barrister said Marotta had described one of the men at the alleged meeting as "a fake person, which is an Italian way of saying something just wasn't right with this man".
Following Mr McCartney's arguments , the judges heard submissions from counsel for the Crown in private.
Those discussions led them to rule that nothing within the intelligence material needed to be disclosed.
The court is expected to hear how Marotta plans to advance his appeal application when he appears again next month.