21 suicides in west Belfast this year: Gerry Adams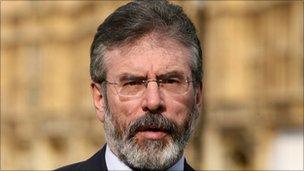 Sinn Fein leader Gerry Adams has said as many as 21 people have taken their own lives in west Belfast this year.
He was speaking following the death of 19-year-old Liam McGuinness. The teenager, a promising young boxer, took his own life on Monday.
The West Belfast MP called on the health minister to ensure funding for suicide prevention in NI is ring-fenced.
He said it was a "crisis" which needed action from the Executive.
It has been reported that Mr McGuinness was the 10th young person to have taken his own life in west Belfast in recent months.
"There are more people being killed, if that's the way to put it, throughout this island from suicide at this time than are being killed on our roads," Mr Adams said.
"If you look at the proper focus and profile that there is on the prevention of road accidents... we need to get the same priority into the provision of mental health and of suicide prevention."
He said the more information that can be made public "the more we can be alert about suicide, the more we can be able to listen and pick up the signs and encourage people to go and talk to someone."
The Sinn Fein leader added: "But when it comes down to it, the statutory provision, the service provision, obviously is not good enough.
"It needs to be enhanced, there needs to be identification of what additional measures are required.
"We have to make sure the provision of services matches the crisis - I think this is a crisis that needs to be matched by the executive, by statutory bodies and by all of us who have any influence in our families and in our communities."
Desi Hill coached Liam McGuinness at the Gleann Amateur Boxing Club since he was 12.
He described him as being "full of life, full of beans, dedicated to his sport and just generally a pleasant lad to work with".
"He was destined for the top - he already had a proven record and he was coming through the learning process.
"He had it all in front of him. He had everything, charisma, character," Mr Hill said.
The coach said he had talked to Liam on Sunday night and had no inkling that something was wrong.
"If this tragedy can hit this family, I don't know what's going to happen to other families, because this was one young lad (about whom) I would not have suspected the news I got on Monday morning," Mr Hill said.
"If he's lost the will to live, what chance is there for other kids who wouldn't have had the will that Liam had."