NI's £4bn cutbacks 'a real test' warns Finance Minister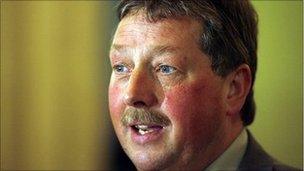 Northern Ireland is facing cutbacks of £4bn in real terms over four years - a "real test" for the NI Executive, the finance minister has warned.
Capital funds for roads, hospitals and public projects in NI will have to be cut by about 40% by 2014/15.
Mr Wilson said this was "worrying" and "very difficult decisions" would have to be taken.
In terms of current spending, the money to pay wages and other regular costs will fall by 8% over four years.
"Whilst the level of budget reductions we are facing is unwelcome, and will present a serious challenge, it comes as no great surprise," Mr Wilson said.
The cuts in current expenditure would be "difficult to manage", he said, given inflation and pay pressures.
But the fall in capital funds was "much more worrying".
"The Northern Ireland capital DEL (Department Expenditure Limit) budget will fall by 40.1% in real terms by 2014-15. In addition, the biggest reduction will be in 2011-12 where our capital DEL will reduce by £ 342.7m in real terms.
"We are going to have to take some very difficult decisions in terms of what projects to fund going forward - the reality is that we have much less money available than was envisaged under the Investment Strategy that was published as part of the previous budget."
Mr Wilson said the Executive had a duty and a responsibility to take difficult decisions.
"If we delay or fail to agree a Budget, the losers will be the communities we represent. Our schools, colleges, hospitals, health centres, indeed all publicly funded services need certainty in their budgets as soon as possible.
"By working together, we can mitigate against the worst effects of the spending cuts."
Earlier, First Minister Peter Robinson said cuts to be implemented in Northern Ireland through the Spending Review were worse than he had anticipated.
Northern Ireland Secretary Owen Paterson spoke to Mr Robinson and Deputy First Minister Martin McGuinness by phone in Washington on Wednesday.
Mr Robinson and Mr McGuinness said he had delivered "bad news".
Mr McGuinness said it had been very unpleasant to hear the extent of cuts facing the Executive.
The Executive is due to meet on Friday to consider the full implications of the cuts.
Mr Robinson and Mr McGuinness are in Washington for an investment conference.
Earlier, Chancellor George Osborne promised to be guided by "fairness" as he unveiled the biggest budget cuts in decades.
He stressed that funding counter-terrorism against the threat in NI was a government priority.
The Department of Finance at Stormont will work out how the cuts will breakdown later.
A £200m rescue package has been announced for the Prebyterian Mutual Society, made up of £25m in cash and a £175m loan.
Richard Ramsay, chief economist with the Ulster Bank in Northern Ireland, said the cuts were "largely as expected".
But he said there were surprises on the pension front.
He pointed to the rise in the retirement age to 66 by 2020, years earlier than had been envisaged.
For public sector workers, there is good news in that the defined benefits scheme has been retained, he said.
There will be staggered contributions - with those on higher salaries paying more.
Mr Ramsay said cuts on the welfare front are also largely as expected with caps on the level of benefits that householders can receive.
The impact of half a million job cuts over four years, means the loss of about 16 -17,000 jobs in NI, rising over six years to over 20,000 jobs.
Mr Ramsay said compulsory redundancies were inevitable, but it remained to be seen how many and where those cuts would take place.